Free biography assignments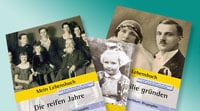 You're not sure yet what to make of my courses? I totally understand!
Please enter your name, email address and the course you are interested in, and I'll be happy to email you your first biography assignment as a PDF file free of charge. Please review it at your leisure! I am sure that you will enjoy the writing course and that it will help you realize your goal – to put the memories of your life to paper, and in doing so achieve a standard of writing that you'll be very proud of.
"*" indicates required fields